University of Iowa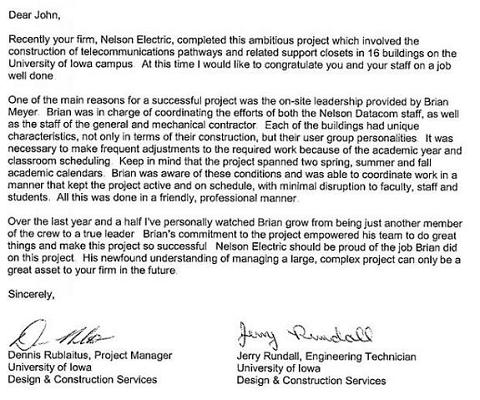 Tim Touro, Rockwell Collins
The disaster we experienced in Eastern Iowa this summer is unprecedented. The response that we saw in Cedar Rapids, Iowa City and other surrounding communities, as well as other states who stepped up to help us, is a testimate to the quality of people we have here. On Saturday, I was fortunate to personally witness it, thru the efforts of all the people at Nelson Electric, at our house on 7th St. S.W.. I cannot say enough about the willingness to help that we experienced, and I cannot begin to repay all those who participated.
There are many reasons that I live in Eastern Iowa, and Saturday reinforced one of those reasons, that being my belief in the quality of people we have here. I will be sharing my "Nelson Electric" experience with everyone who will listen, for a long time to come!
THANK YOU, NELSON ELECTRIC!!!
Please share this note with all who participated.
Thanks,Tim Touro
Enterprise Sourcing – Sr. Commodity Manager, C.P.M.Rockwell Collins
Donald Zeller, Retired Sheriff of Linn County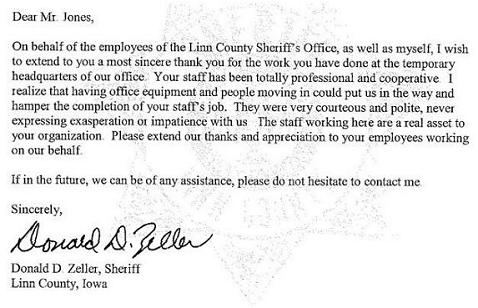 Charles Rogers, Homeowner

Bryan D. Woodward
To Chuck Friedman and T.J. Meiners,
re: Building B Renovations
I wanted to take a minute out of my busy schedule to thank Nelson Electric on the work performed in the 4200 C Street Building B project. It has truly been a pleasure to work with you and your staff. Your professional work and positive can-do attitude really made this project move forward quickly without any significant problems. Your staff was always willing to work with us to accommodate our needs as the building progressed and data cables and locations were tweaked. I particularly would like to thank Nelson Electric for installing the fiber optic cable in Building A on such short notice. This piece of the puzzle was not anticipated to be needed until issues arose with our voice communication needs late in the afternoon on Tuesday June 6th. Nelson's sales staff exceed my expectations by getting me the information needed to complete our procurement quickly. And your installation team once again blew us away by completing the installation within 24 hours of receiving the purchase order.
Thank you very much for all the extra effort and hard work you and your staff put in to make this project a big success.
We look forward to working with Nelson Electric on future projects as well.
Sincerely Bryan D. Woodward